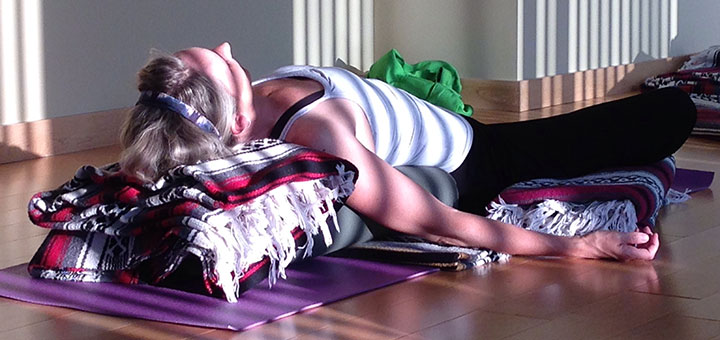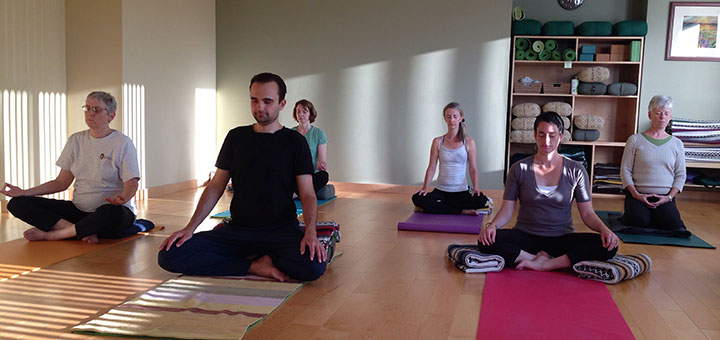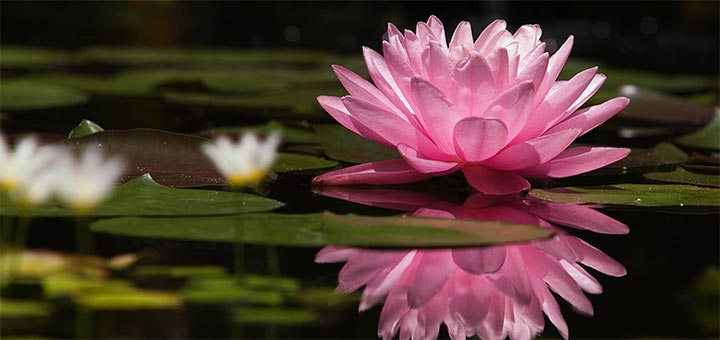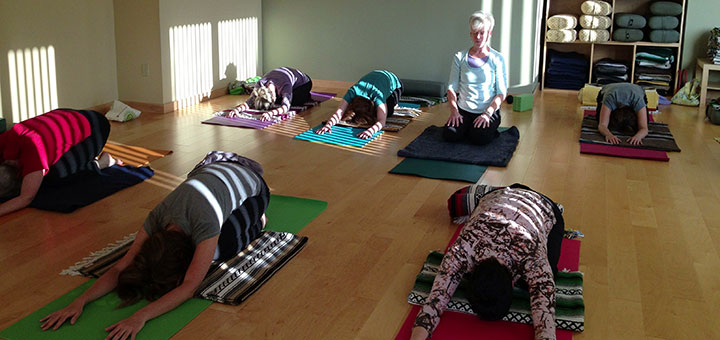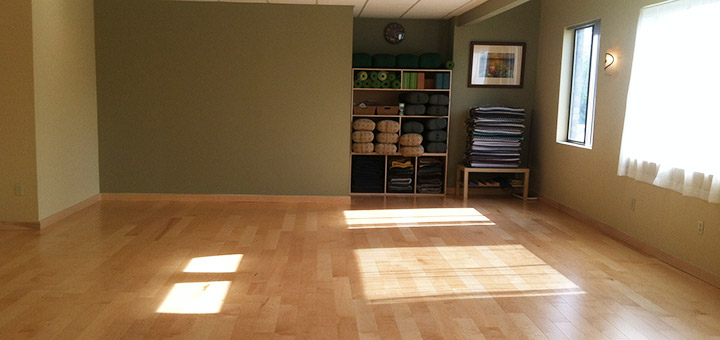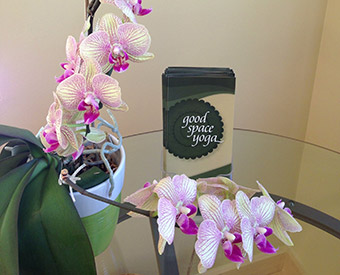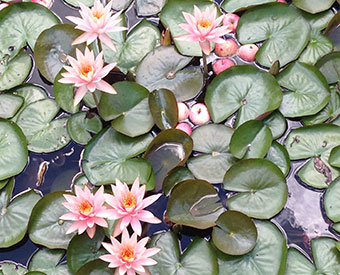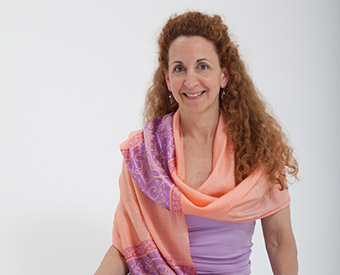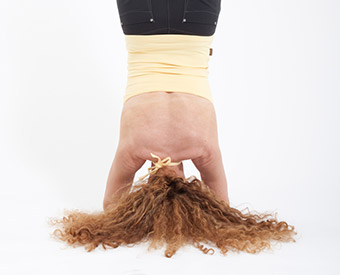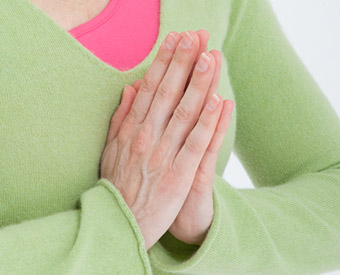 a clear, calm mind…
Kathy Ornish, owner and director, BS, MFA, E-RYT 500, c-IAYT
"…a clear and peaceful mind is the ground for joyful living." Swami Rama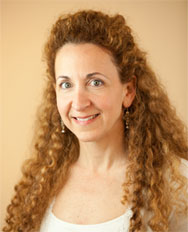 Kathy Ornish (K.O.), owner and director of Good Space Yoga, was exposed at a young age to yoga through her family's close association with Swami Satchidananda, the founder of Integral Yoga. She is deeply thankful to her teachers who have guided her, both as a practitioner and as a teacher, on her journey to convey the incredible breadth and beauty of Yoga. Using a broad array of the tools of yoga, her teaching incorporates a mindful approach to all aspects of the practice.
K.O. is a certified Yoga Teacher and Yoga Therapist through Gary Kraftsow's American Viniyoga Institute (accredited Yoga Therapy program by the International Association of Yoga Therapists I.A.Y.T.) and a Certified Yoga Therapist by the International Association of Yoga Therapists. Viniyoga evolved out of the teachings transmitted by T. Krishnamacharya and T.K.V. Desikachar of Madras, India. It is a style of yoga that emphasizes the appropriate application of the many tools of yoga (asana, pranayama, meditation, relaxation, chanting, mudras, bandhas, ritual, etc.) and adapts them to meet the unique condition and need of the individual. Kraftsow is considered an internationally respected Yoga Therapist and teacher. She also studies with Pandit Rajmani Tigunait, Spiritual Head of the Himalayan Institute and successor to Swami Rama.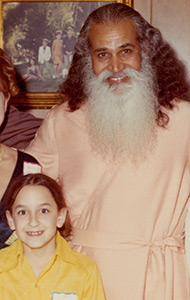 K.O. also studied and trained with Rod Stryker, and was given the honor of Acharya (one who knows and conveys the teachings). Formerly, she also studied Iyengar Yoga (which emphasizes alignment in the poses) for 7 years with Ruth Fisk, and completed the beginner teacher training with Aadil Palkhivala.
This 5000 year old tradition remains an extraordinary transformative tool, and K.O.s hope is that she can help you achieve your highest potential (physically, emotionally, intellectually, and spiritually) by using all the methods of yoga.
Offering group classes, private yoga therapy, and local and national workshops, K.O. is honored to help you get a glimpse into the best that you already are!
Credentials:
Teacher of Yoga since 2000 and Yoga Therapist since 2007
Certified (c-IAYT) Yoga Therapist through the International Association of Yoga Therapy (I.A.Y.T.)
Certified Viniyoga Therapist – 500 hour program with Gary Kraftsow's American Viniyoga Institute, an accredited yoga therapy program through I.A.Y.T.
Certified Viniyoga Teacher – 500 hour program with Gary Kraftsow's American Viniyoga Institute
Certified Para Yoga Teacher – 500 hour program with Rod Stryker's Para Yoga
Registered with the Yoga Alliance at the E-RYT 500 level (has a 500 hr training plus at least 2,000 hours of teaching experience since completing training)
Master of Fine Arts from San Diego State University
Bachelor of Science from the University of Texas at Arlington.

Work Experience:
Yoga Teacher since 2000
Yoga Therapist since 2007
Owner and Director of Good Space Yoga since 2010
Special Faculty, 2014-present, Viniyoga Foundations Program for Teaching and Yoga Therapy, East and West Coast
Faculty, Viniyoga Foundations Program for Teaching and Yoga Therapy East Coast, 2012-2014
Faculty, Foundations for Yoga Therapy training at the American Viniyoga Institute, 2009-2001
Teacher Training Assistant, Para Yoga Teacher Training 2002-2004
Faculty, Himalayan Institute in Honesdale, PA, 2009-present
Consultant at the Preventive Medicine Research Institute
Professor of Sculpture and Ceramics for 10 years
To contact K.O. call 517.927.3327 or email K.O.
Donna Cervelli, RYT 200
Donna, RYT 200, has been practicing and studying with Viniyoga Teacher and Therapist, Kathy Ornish (KO), founder of Good Space Yoga, for over 12 years. She continues to study under guidance from KO and has been teaching locally since 2010. She received her 300 Advanced Viniyoga Studies – Viniyoga Foundations Program Certification from the American Viniyoga Institute in 2015. She also completed her 200 hour yoga teacher certification from Sangha Yoga under the guidance of Karina Ayn Mirsky.
Donna holds a bachelors degree in civil engineering, and has worked as a Professional Engineer with the State's Department of Environmental Quality since 2000.
To contact Donna call 517-899-8820 or email Donna
Ann Lapo
Ann is passionate about the practice of Yoga in all its manifestations in our daily lives. Whether through a formal posture sequence to gain awareness of the body and breath, meditation, a walk in nature, the notes
in a song, a commitment to ourselves or making a deeper connection to others in work or play, Ann welcomes it all into her teachings. She is proud to have been an educator for over 25 years and completed her 200-hour Yoga Teacher Certification with Mimi Ray's The Art of Teaching Yoga in Grand Rapids, Michigan. Ann loves playing guitar and singing with best friend/life partner, Jeff, loves the land, and cherishes this beautiful life with loved ones near and far.
To contact Ann call 517.388.3625 or email Ann
Jacob Jensen
I'm from Denmark and am a professor in plant biology at MSU. I'm a longtime practitioner of yoga, spirituality and personal development. About four years ago I discovered Viniyoga, and have since been very excited about this particular lineage.
In my personal practice I do a simple breath-centric awareness meditation, while I have extended experience with other types, such as loving kindness (metta), body scanning, and self-inquiry. Apart from a general pursue of mental and physical happiness and wellbeing, I am interested in such basic questions as "what is reality?" and "how does one know?" These questions, when applied to nature around us (natural science, in my case plant biology), ultimately funnel into a basic investigation of the nature of the mind itself (consciousness). For me, science naturally becomes spiritual at some point, and the two are continuous. On that note, yogic meditation is excellent preparation for doing brilliant science experiments.
In yoga therapy, I have personal challenges with work burnout and autoimmune inflammation. These are even more challenging in combination. I can attest to this being both a career scientist and Crohn's patient. I am a long time student/patient of K.O. and owe much to her wisdom and guidance.
Currently, Jacob is enrolled in the 500 hour Viniyoga Foundations Program for Teaching and Yoga Therapy.
"We can do no great things – only small things with great love." – Mother Teresa
To contact Jacob call 517-256-8543 or email Jacob
I was looking to try a beginner's yoga class, something low-impact, as I've had my hips replaced, with meditation to help alleviate stress. What I got as a student over the last 6 years has exceeded all of my expectations and prayers.
I'm continually amazed with the difference yoga is making in my life. Nothing overnight, no quick fixes, but gradual, by degrees, quietly. With KO's gentle guidance and instruction I'm finding the patience to let changes happen.
After giving up on yoga following involvement with several studios where I was getting hurt, K.O. used her deep understanding of human physiology to gently move me towards health.
As a student of KO's for over 15 years, which includes two births, I never had the need to find another practice. My weekly classes at Good Space Yoga are incredibly nourishing and balancing for the mind, body, and spirit.