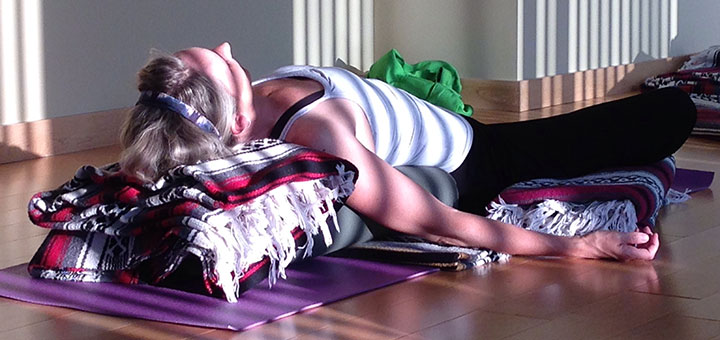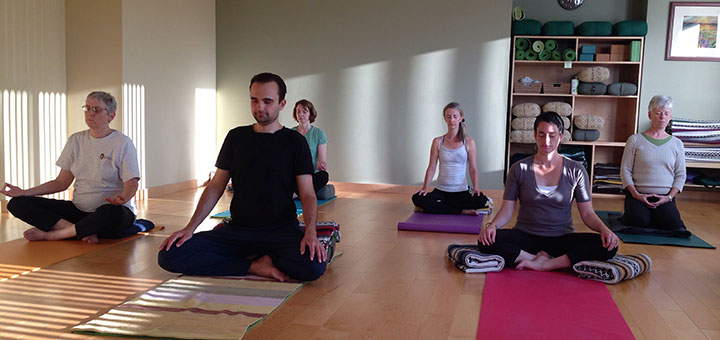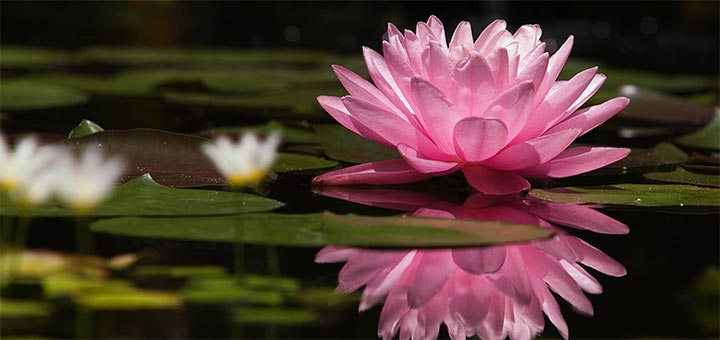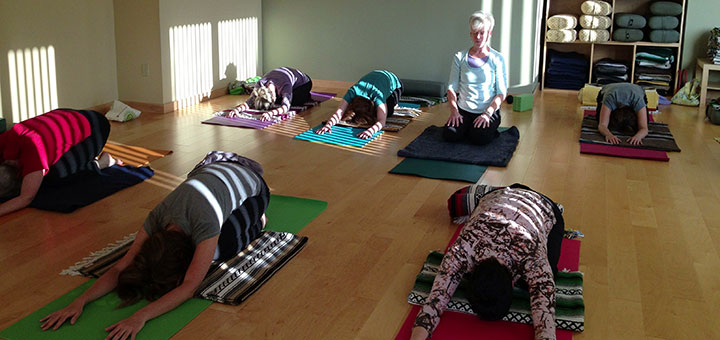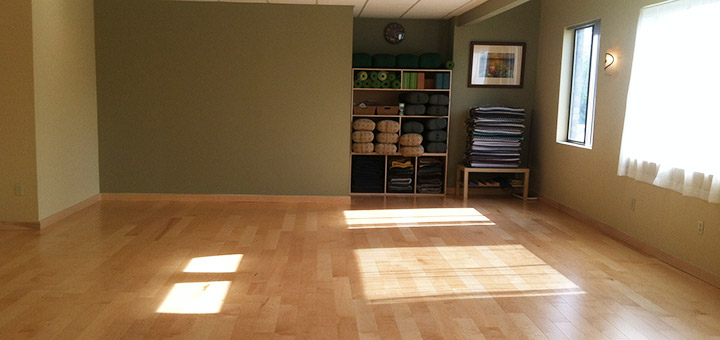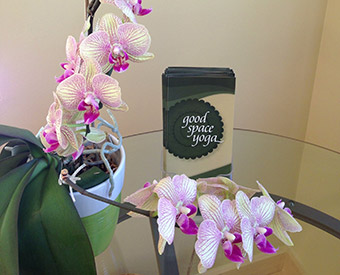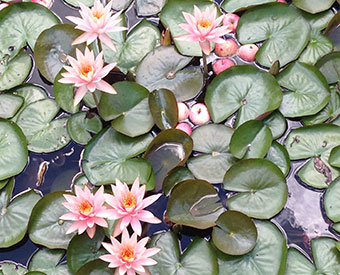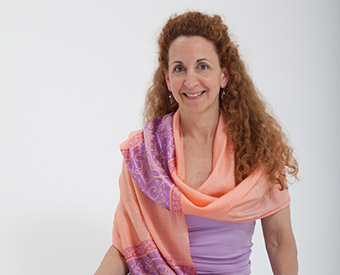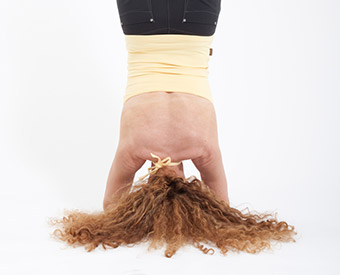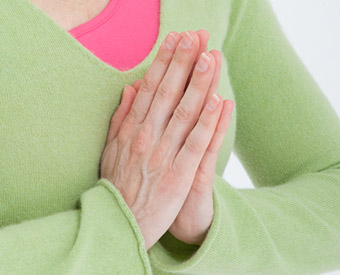 All K.O.'s classes emphasize integrating the primacy of breath with movement in the physical poses, while learning to adapt the postures to suit your unique needs. Specialized breath practices (pranayama), visualization, meditation, and relaxation are also incorporated. All classes will help develop strength, flexibility, focus, and a greater awareness of body, breath, and mind.
Beginning Meditation with K.O. is periodically taught.
Learn how to begin a home meditation practice. Systematic methods for mantra meditation and stress reduction are covered each week. Many relaxation and concentration techniques, as well as gentle physical warm-ups, are explored to prepare the body and mind for sitting. Group discussion, lectures on lifestyle, and yoga philosophy are included. Class size limited to 10.
Yoga for Health with K.O. (all levels)
A gentle physical practice adapted to accommodate one's physical abilities, combined with breath awareness, will increase strength and flexibility. Adaptation of the postures to the individual is integral to the practice. Breathing, meditation, and relaxation will end the class, leaving you relaxed and renewed. This class is for those completely new to yoga or anyone wanting a more gentle practice.
Mind and Body Yoga with K.O. (Level 2)
Deepen your practice with more challenging physical postures, sun salutations, a more in depth exploration of breath (pranayama) techniques, and longer meditations. Emphasis is also placed on cultivating greater concentration and self-awareness, and on accessing the more subtle in the body. Some philosophy included.
Mind and Body Yoga with K.O. (Level 3)
For students with at least 1 year yoga and meditation experience. This class is similar to the Level 1-2 class, but is more physically challenging. More in-depth breath work, meditation, visualization, and philosophy are included.
Second Thursday Meditation Support Group with Jacob
These meetings have a workshop format. There will be a planned program and aim for the sessions, but emphasis is on dialog, both between teacher and student and student to student. In this way these meetings are centered on two ideas; a) the principle of "integrated practices" from Viniyoga, and b) the power of learning and sharing with others. The support group is open to people of all levels and backgrounds.
Meditation has an inherent aspect of "something you are doing on your own" and so sharing, discussion and clarification are often needed, even for well established and consistent practitioners. It is a common experience to realize that other people are having similar frustrations or difficulties as you. This realization often reduces self-blame and promotes a sense of human interconnectedness. In other cases, hard learned lessons can be passed on, saving others from similar problems. Such experiences build motivation and a renewed sense of purpose with our practice.
In these meetings we will primarily work with the integrated practices using the following techniques: simple asana (movement practice), simple pranayama (breath practice), meditation, and working with intention of the practice. The sessions have the general structure of discussion, theory, practice, and ending with discussion. You do not need to wear yoga clothes.
Rise and Shine Yoga with Donna
Start your day by connecting breath, mind and body through a moderate asana practice. We will explore techniques such as chanting, pranayama, and meditation. All levels welcome!
Saturday Morning Yoga for Kids with Donna
Designed for kids 8-12 yrs to energize and release energy with yoga poses to create a calming effect. We will identify different energetic effects on the body and breath created by the postures, and end by connecting with a quiet mind. No experience required.
THERAPEUTIC CLASSES
Periodically taught by K.O.
Stress Management
It's easy to feel as though the demands on our lives can exceed our resources. Many people live with feelings of irritability or anxiety. Many have trouble concentrating or sleeping. Would you like to begin to cultivate a more peaceful, less reactive life?
There are many conditions, both physical and emotional, that can be improved by decreasing one's stress. Simple lifestyle changes, as well as learning to understand your perceptions and reactions to stress, can help support a calm and clear mind. In this class you will learn techniques to help decrease your reactions to stress through breathing, relaxation, and meditation. Lectures on lifestyle, some gentle physical exercises, and other related topics will also be included. This class will be limited to 8 people. No previous yoga experience is necessary.
Yoga and Multiple Sclerosis
Yoga is a wonderful tool for promoting wellness in our bodies, our physiology,and our minds. This class is specifically designed to use yoga postures, breathing techniques, relaxation, and visualization to encourage strength, flexibility, balance, and mental focus, while lessening stress, contraction, and fatigue. Our room will be climate controlled. No previous yoga experience is necessary.
Therapeutic Yoga for Back Pain
Using yoga practices that were demonstrated to be effective for chronic low back pain, this class is based on the N.I.H. funded controlled trial published in the Annals of Internal Medicine, 2005. Discussion, yoga postures, breath techniques, visualization, relaxation, and home practices will be included. Class size is limited to 10 students. No previous yoga experience is necessary
Subscribe to my email newsletter.
your email address
first name
last name